EU awards Horizon 2020 project on microbial desalination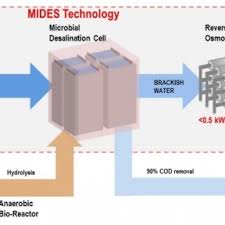 Together with its partners, UNESCO-IHE has received approval for the MIDES project within the European Commission's Horizon 2020 programme. The central focus of MIDES – MIcrobial DESalination – is the demonstration of new affordable technologies for desalination to cope with shortage of fresh water.
MIDES aims to develop the world's largest demonstrator of an innovative and low-energy technology for drinking water production, using Microbial Desalination Cells (MDC) technology as pre-treatment step for Reverse Osmosis (RO).
The project will focus on overcoming the current limitations of MDC technology such as low desalination rate, high manufacturing cost, biofouling and scaling problems on membranes, optimization of the microbial-electrochemical process, integration with RO, ceramic nano-membranes as pre-treatment, system scale up and economic feasibility of the technology.
MIDES value chain
MIDES will give Europe a technological and competitive advantage in the growing water market. The key factors of project scale, challenge, and depth of required technical skills demand the work to be pursued as cross-border project, bringing to close collaboration the whole European economic ecosystem of technology centers, large enterprises, SMEs, and governmental bodies.
To ensure this, the complete value chain is represented for the execution of the MIDES Project:
Research and technology transfer centers (IMDEA, LEITAT, University of Chile, University of Gabes)

Material manufacturers for membranes and electrodes (FUJI, SGL Carbon, RWB Water Services)

Nano-materials and –technologies and –safety (LEITAT)

Process simulation, automation and control companies (SIMTECH, On Control Technology)

Cell design and engineering (IMDEA, Mikrolin)

Service and water management (AQUALIA, Europe's third largest water company)

The largest international water education facility in the world for training of water professionals and building environmental awareness with decision-makers (UNESCO-IHE)
This project has received funding from the European Union's Horizon 2020 research and innovation programme under grant agreement No. 685793.
Details at : UNESCO - IHE website