FIU Researchers Use Fabric to Test for Chemicals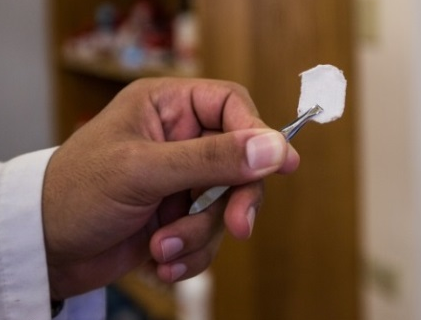 A researcher at Florida International University says he co-invented a new technology using a fabric that can extract chemical compounds within minutes, cutting short a process.
The process that can often take hours or even days to complete.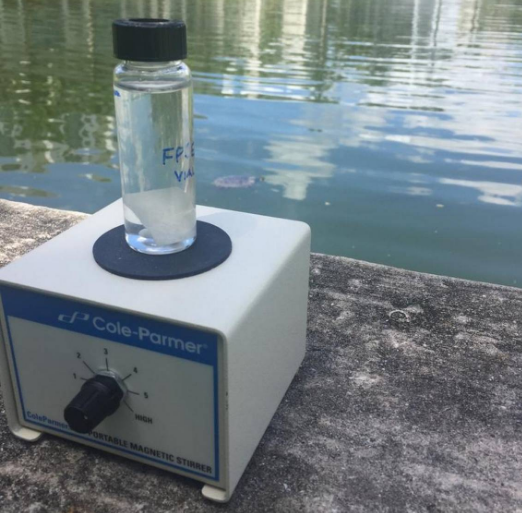 FPSE extracts chemical compounds from pond water on top of an electric stirrer. Ayanna Runcie
The testing method could be important in uses ranging from water pollution or blood testing in labs to urine testing for drugs — and could even become a new way of preserving evidence for court proceedings, said Abuzar Kabir, a visiting research assistant professor at FIU's Department of Chemistry and Biochemistry.
Kabir said he wanted to create a testing technology that wouldn't require a lot of equipment — "without making any big noise or big drama," he said — but still produce reliable, fast results.
"Why does someone have to carry a big plastic container and a big truck" to collect water samples, he asked. "Rather you take this [fabric] to the pond, to the ocean, to the beach, and then collect what you're looking for."
The process of binding chemical compounds to chemically infused fabric — known in scientific circles as fabric-phase-sorptive-extraction, or FPSE — was developed in the school's Academic Health Center, which is primarily used for medical and chemistry research. FPSE can be used to test for chemical compounds in urine, blood, cosmetic products and water, among other substances.
Scientists in at least 30 universities across the globe are using FPSE for their research, Kabir said, and the testing method has been peer reviewed several scientific journals, including Separations.
Kabir co-invented the technology with Kenneth G. Furton, FIU provost and executive vice president. FIU, which was granted a 20-year patent for FPSE in 2014, is now talking with three potential commercial partners who could take the product to the market.
"These are pieces of fabric that have a special coating on them that we make," said Rodolfo Mesa, an FIU Ph.D student who helped develop the process. "There are 25 variations of that material and different variations have different abilities to catch different chemicals."
Once the fabric comes in contact with the blood or water to be tested, it's immersed in an organic solution that retrieves all of the chemical compounds, which are injected into a machine for testing.
According to Kabir, this process retains accurate levels of most chemical compounds, compared to current instruments and processes that can lose a portion of the chemical compounds during their transportation, filtration, and analytical processes.
He explained that when a substance, such as blood, is transferred through several containers and filtered as a way to extract chemical compounds, the substance loses its original chemical make-up which causes the chemical analysis to be less than accurate.
With the new method, Kabir said, he wouldn't use any container. "I would simply prick your finger and add two droplets of blood directly into [the fabric] so there is no intermediate middle guy."
In addition to improved accuracy, Kabir claims that FPSE can store chemical compounds up to several years.
"For example, if you feel you were drugged at a party you can go to the restroom and collect urine on the membrane [special fabric] and hold it as hard evidence even with lapsed time," he explained.
Although traces of most drugs disappear from the human system in a matter of hours or days, the chemicals would be bound to the fabric for years, he said.
Read more: Miami Herald