Florida's Offshore Oil-drilling Buffer Zone Under Attack in Congress​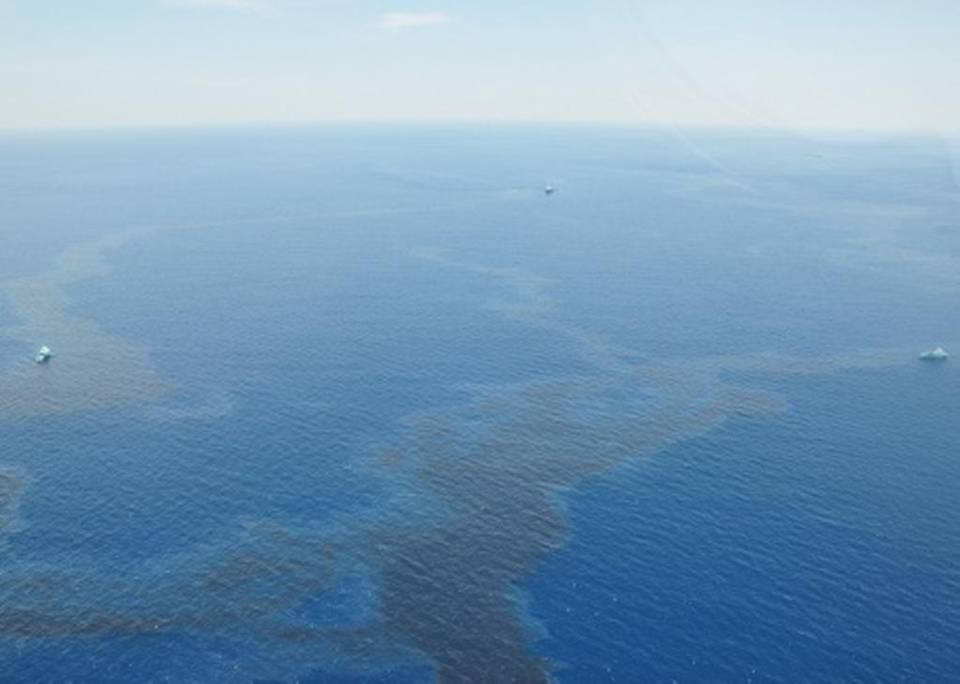 Oil spewing from a rupture near an offshore drilling platform in the Gulf left a sheen that stretched 13 miles long
Crude oil spewing out of an undersea pipe created a surface sheen that grew to two miles wide and 13 miles long before someone in a passing helicopter noticed that yet another spill was menacing the Gulf of Mexico.
That was May 12. The U.S. Coast Guard estimated that some 88,000 gallons escaped from a ruptured underwater pipe connected to a Royal Dutch Shell drilling platform before engineers stopped the leak. The Coast Guard dispatched five clean-up vessels to mop up what they could of the mess.
The spill off the coast of Louisiana received scant attention in Florida. The currents seemed to be carrying the stuff into the western gulf, where Texas and Mexico can worry about the consequences. But Floridians have reasons to care.
The discovery of the leak by the helicopter crew amounted to happenstance. Naive people like me had assumed that undersea oil-drilling apparatuses were outfitted with automatic alarms. After all, talk about opening Florida waters and wilderness areas to drilling always comes with promises about new technology that prevents or detects spills. Apparently, not always.
Floridians ought to take particular note of the spill's location. The ruptured pipe was located just 97 miles south of the Louisiana mainland. Florida, alone among the gulf states, currently enjoys a ban on offshore oil drilling within 125 miles of our coastline. Oil rigs as close to shore as the Shell platform would be banned off Florida — for now.
But for the last decade, oil interests and their political allies have been agitating for Congress to shrink Florida's no-drill buffer zone. Louisiana Sen. Bill Cassidy and other Republican oil-state senators introduced a bill last summer that would allow drilling within 50 miles of the Florida coast, beginning in 2017. Cassidy issued a statement talking about the economic benefits of offshore drilling. "I don't understand why anyone would deny Floridians, or anyone else, access to these jobs." Florida Sen. Bill Nelson has managed to fend off the Cassidy bill — so far.
Well, the answer to Cassidy's question lies along the shoreline of his own environmentally ravaged home state. Floridians are terrified that a spill would do something similar to their beaches and marine ecology.
Last week, Athan Manuel, director of the Lands Protection Program of the Sierra Club,testified before the U.S. Senate Energy and Natural Resources Committee that the gulf "has still not recovered from the 2010 BP Deepwater Horizon disaster, and oil continues to wash ashore on Gulf beaches from this spill and the nearly 150 [spills] that have occurred since 2012." He said that commercial fisheries and marine populations have still not "fully rebounded."
Manuel cited U.S. Bureau of Ocean Energy Management estimates that, meanwhile, some 500,000 barrels of oil have seeped into American waters from leaks that were never reported.
In Florida, we've bet the house on tourism and recreation, on our water and our beaches. Hard to believe that political leaders like Gov. Rick Scott and Sen. Marco Rubio have indicated they might also want to reconsider Florida's buffer zone. As if spills like that oily mess 97 miles off Louisiana never happen.
Source: Miami Herald