Is Florida Moving Too Slow to Save the Everglades?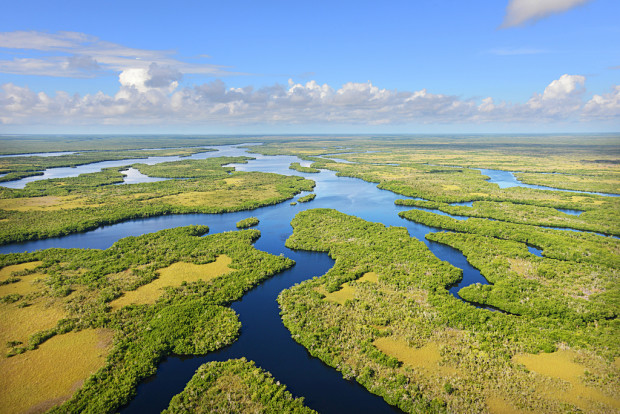 Zooming over the vast Everglades in a helicopter, it's easy to see how much work is being done to revive the wilted watershed. But at ground level, the view is far different.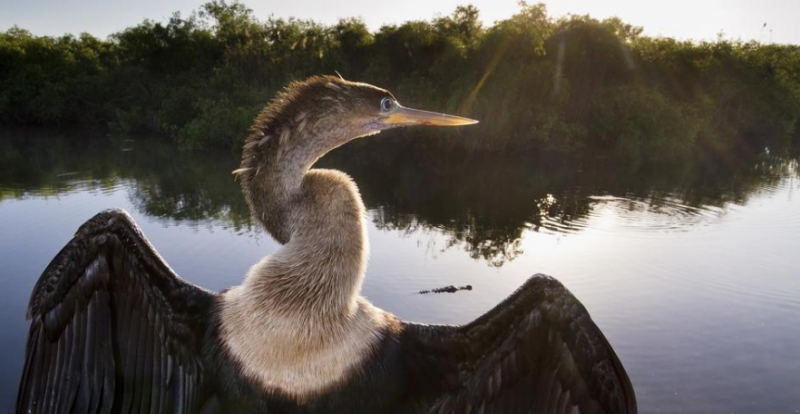 Photo source: Daily Commercial
What is done? Newly restored bends in the Kissimmee River are resurrecting floodplains and wetlands to clean and slow the flow of dirty water running from farms and cities into Lake Okeechobee. Reservoirs are underway east and west of the lake to hold more water.
To the south, sprawling treatment areas to scrub pollution from farm runoff water were expanded last year. Of 26 massive culverts needed to shore up the lake's aging dike, 21 are under contract. And new and reconfigured canals began delivering more water in 2016 than ever before to Everglades National Park.
But at ground level, the view is far different, with sides squared off in bitter fight over just how much remains to be done, and at what pace.
For the second year in a row, a proposed $2.4 billion reservoir included in original plans and envisioned somewhere in the sugar fields that now dominate the landscape south of the lake is taking center stage. State Senate President Joe Negron, his Treasure Coast constituents repeatedly hammered by dirty water from Lake Okeechobee, and environmentalists want to speed up its construction by years. Gov. Rick Scott and farmers, however, see the reservoir as a job-killing land grab and say efforts should focus north of the lake, where water storage projects are already underway.
The National Academies of Sciences also issued a dismal assessment earlier this year, citing problems that have dogged the $16.4 billion state-federal restoration project almost since its inception in 2000: bureaucratic creep and chronic underfunding.
Of the 68 projects originally envisioned, only six are under construction. None are fully done. At the current pace, the academy reported, fixing the Everglades will take another 100 years.
"We're now at 16 years and we're having a difficult time walking and chewing gum at the same time," said Stephen Davis, a wetlands ecologist with the Everglades Foundation.
Rep. Matt Caldwell, R-North Fort Myers, who organized last week's helicopter tour for reporters from the Miami Herald and Politico, said it makes no sense to rush construction of a massive reservoir until other projects needed to move water into the marshes are completed.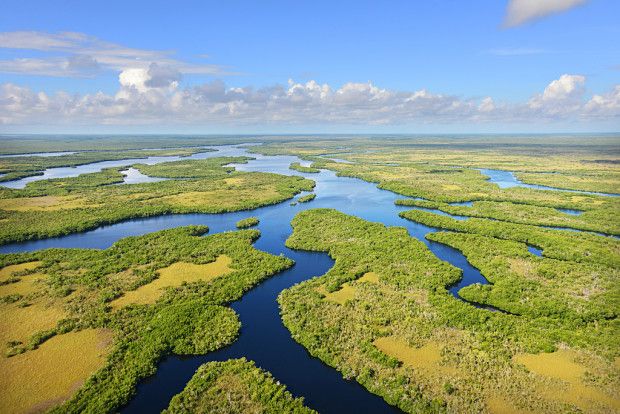 "The science builds on itself; that (reservoir) and all the projects that are at the end are keystones," he said. Caldwell also questioned why the state would buy out farmers when it already owns so much other land south of the lake in water conservation areas that make up much of the marsh outside of Everglades National Park.
So why are the Everglades, once encompassing 3 million acres connected by a shallow river snaking across sawgrass prairies, such an intractable problem? From high in a helicopter, it's easy to see: 500,000 acres of sugarcane fields and western suburbs now sit between the lake and marshes to the south. Restoration projects happen on a landscape-altering scale, consuming thousands of acres and involving some of the toughest issues in government: property rights, environmental protection and endangered species.
The slow pace of restoration also means projects almost always undergo tinkering from shifting political leadership or changes in science, often provoking new skirmishes.
Over the years, the academy scientists say revisions have shorted water storage — a central feature in the original plan and expected to have the biggest price tag. To work, original plans called about 1 million acre feet more of storage, which represents about two feet of water in Lake Okeechobee. Current plans only provide 364,000 acre feet.
But in this year's NAS report, scientists say those original estimates might be vastly underestimated and cited other reasons that the storage estimates might be inadequate. The high level of pollution in Lake O will likely require more capacity to clean water than previously thought. And a sprawling network of wells to store water in the aquifer was downsized by more than half after an 11-year study. Water storage calculations also need to accommodate changing sea levels triggered by climate change.
A record-breaking wet winter last year also led the district to tweak projects that put more water in the park, where decades of drying out are threatening valuable mangroves and peat that help protect Florida's water supply.
But that progress hasn't stopped the perpetual debate over restoration plans. Adding to the confusion in this year's debate, the water management district and environmentalists actually agree on the need for a reservoir south of the lake.
By Jenny Staletovich
Read full article at: Daily Commercial