Lake Okeechobee Polluted Since 1985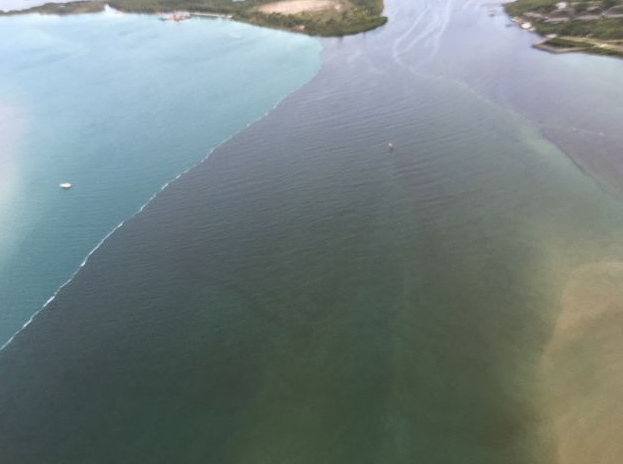 Despite decades of planning and promises, Florida lawmakers, governors and agencies have never gotten close to cleaning up the largest lake in the Southeast U.S.
In 1985, 500 metric tons of phosphorus flowed into the lake. Last year, the total was 450 tons. In the years between, amounts of the damaging nutrient went up and down but nearly always remained three to four times higher than a target the state set in 2000.
At a meeting in March, just before another algae bloom slimed the Treasure Coast following massive releases of polluted lake water, the state's own scientists concluded that there had been no improvement at all.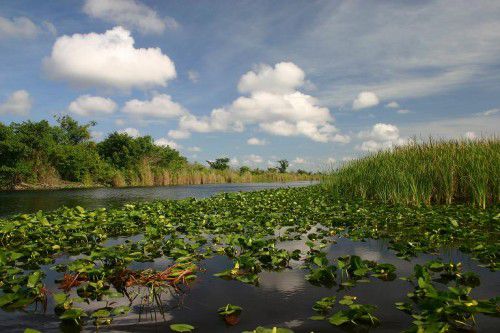 A 2000 law promising to spend $175 million to help farmers and ranchers control phosphorus doled out just $3 million.
Seven years later a plan that would have created about a million acre-feet of storage north of the lake got swallowed in the recession and abandoned by a new governor.
Critics say state laws favor "best management" goals for many agricultural operations instead of enforceable standards, and include loopholes like one allowing largely unregulated use of treated sewage sludge, high in nutrients, on farm fields.
Meanwhile, suburbs that produce even more phosphorus than farms continue to expand around booming Orlando.
And this year, after failing to meet the law's 2015 deadline to get phosphorus loads into the lake down to 140 tons, state lawmakers simply set a new deadline — 20 years from now.
The state is now scrambling to play catch-up, expediting two vast reservoirs for coastal estuaries and giving emergency approval in July to $2.6 million for improvements. The U.S. Army Corps of Engineers also launched a planning effort to increase storage north of the lake last month.
But solutions won't be quick. Planning alone will take three years, news that drew groans from both farmers and environmentalists at a crowded meeting in Okeechobee last month.
Phosphorus, a naturally occurring element that is also a key nutrient in fertilizer, has always existed in the lake. It's the stuff that helped create the rich muck to the south that built a $677 million-a-year sugar industry. The problem is when too much piles up.
The releases send huge amounts of freshwater into coastal saltwater estuaries that mix with local run-off rich in nitrogen and local phosphorus. The results: putrid blue-green algae.
So much phosphorus has concentrated in the lake's mucky bottom over the decades that even if no more were added, scientists say it could take another 50 years to reach water quality targets.
Over the last 20 years, concentrations of phosphorus in water near fields has dropped from a high in 1986 of about 500 parts per billion to 94 parts per billion. The artificial marshes knock the phosphorus level down further.
It's still two to three times higher than the 10 parts per billion considered healthy for a pristine Everglades, but that's significant improvement from two decades ago. A practice called "back-pumping" — sending runoff north into the lake — is now only used in emergency conditions.
Altogether, sugar farmers have spent about $260 million on clean up, largely by keeping water on farms, cleaning out ditches where phosphorus-rich soil settles and calculating more carefully the amount of fertilizer needed to grow crops, said U.S. Sugar spokeswoman Judy Sanchez .
But what works to the south — an area dominated by a single crop and a single industry — may not be so simple to carry out to the north, where a vastly different set of problems and variables exist.
To the north, water flows from sod and dairy farms, mobile home parks, vegetable fields and ranches through canals, ponds, creeks, rivers and sloughs into the lake faster than it can flow out. The watershed covers about 5,400 square miles, stretching from just south of Orlando to the lake.
Frank Wesley Williamson III, a third generation rancher in Okeechobee, has developed practices that reduces his phosphorus footprint on Lake Okeechobee and surrounding waterways though south of the lake, where a federal lawsuit set strict standards. He keeps a phosphorus budget.
He knows exactly how much comes onto his ranch, in fertilizer and rainfall, and how much goes out — mostly in cattle sales — and tries to control it by changing operations, like planting more trees so cattle don't cool off in ponds that might drain into creeks or other water bodies.
So if farmers and ranchers have changed operations, where is the phosphorus coming from? Over the years, scientists have repeatedly tried to map out the sources.
Gary Roderick, a former Martin County and DEP environmental manager, points to multiple problems, including widespread "best management" farming practices that are largely voluntary and monitored by an understaffed state agriculture department. Loopholes in state law also encourage what he called one of the worst practices — enriching soils with treated sludge from municipal sewage plants. The nutrient-packed sludge isn't formally classified as a fertilizer.
About 37 percent of the sludge from across the state is used on land as a fertilizer, according to the DEP. Another 29 percent is marketed and sold commercially.
Strip away the sludge, and the farming practices, while not perfect, managed to reduce phosphorus by 22 percent, Roderick and Bottcher say.
Over the years, blame and finger-pointing for phosphorus has largely targeted the ag industry. But farmers and ranchers say that while their fields and cattle have dwindled in the watershed draining south, one thing has not: people. The number between 1980 and 2015 more than doubled, from just over a million to about 2.6 million.
Source: Miami Herald