New Ways Southern Florida Can Tackle Climate Change-related Flooding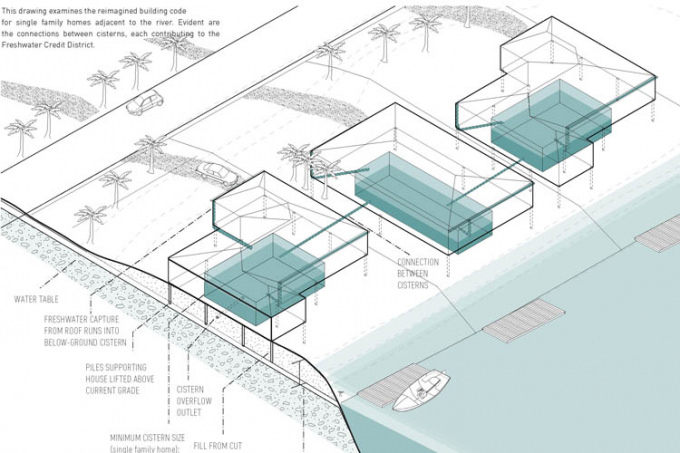 A group of architecture students at the University of Toronto tapped into their creativity, planning and design skills to reimagine new ways southern Florida can tackle climate change-related flooding, rising water levels and salt water entering canals and corroding existing infrastructure.
Their ideas include plans for communities under threat of flooding to relocate behind a giant arc-like sea wall that could double as a civic monument, a network of complex canals built in public rights-of-way with specialized plants to treat water pollutants in agricultural areas, and a series of fresh water catchment basins in a neighbourhood where salt water is intruding into the groundwater aquifers.
The master's students who are specializing in architecture, landscape architecture and urban design at the John H. Daniels Faculty of Architecture, Landscape, and Design presented nine proposals to a team of local planning and architecture experts and officials from Florida's Broward County.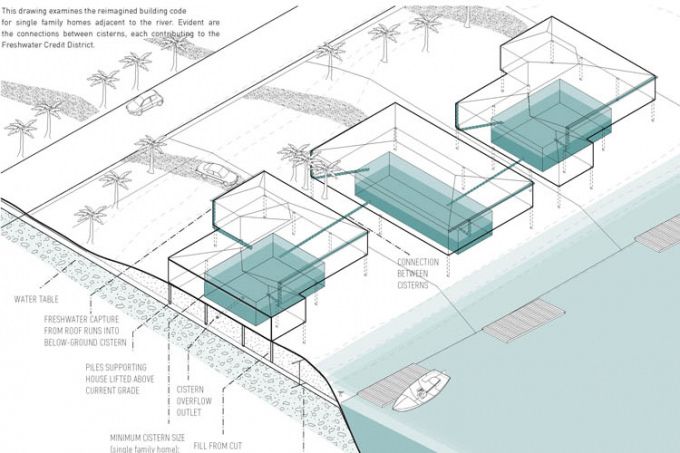 As sea level rises, salt water intrudes into existing aquifers, limiting the fresh water supply in Fort Lauderdale. A student proposal calls for a new network of freshwater cisterns and raising the riverbank with berms to allow residents to keep living at the water's edge (illustration by Leslie Norris and Natalie Schiabel )
The southeast Florida region, just north of Miami, has been struggling with rising water levels – a recent report showed sea levels rising six times faster than average – as well as an onslaught of hurricanes and ongoing development in flood-prone areas.
"It's the Trojan Horse," declared Barbara Blake Boy, executive director of the Broward County Planning Council, about one proposal to convert an existing drainage system into a process by which water can be treated for pollutants using specific plant species that can metabolize toxins from the soil and water runoff.
"This compared to the existing structure is amazing. If I could, I would hire you," added Maribel Feliciano, assistant director of the county's environmental protection and growth management department.
The Florida county, which abuts the Everglades and includes Fort Lauderdale, has been working with Assistant Professor Fadi Masoud to look at large-scale environmental issues and the role of planning policies and tools in the region.
For the third-year master's class, Masoud and Assistant Professor Elise Shelley, who has experience studying flooding issues in Louisiana after Hurricane Katrina, asked students to come up with design and zoning solutions for the south Florida county.
The students researched parts of the region, looking at the limitations of the stormwater management system of levees and canals and constraints of the zoning code, as well as the dynamic qualities of the area like rising tides and precipitation.
They chose topics such as affordable housing, beaches, parking lots, mangroves and wetlands. Then, looking at contemporary climate resilience designs, they began thinking of strategies they could propose. Many of the students travelled to the region for a four-day site visit in November where they met with local officials and went on walking tours of various sites they had researched.
"We did a lot of analysis because for us to understand the lifestyle in Florida was a stretch," said Leslie Norris, who along with Natalie Schiabel proposed a series of freshwater catchment basins in a neighbourhood and called for raising the riverbank with berms to allow residents to keep living at the water's edge.
"It was really important to understand the challenges they're facing and constantly facing, and yet aren't moving out. If we want something to be implemented, it has to be familiar enough that people wouldn't be afraid of it, that they wouldn't discredit it from the get-go. So our idea allows people to live at the edge of the river but not be worried about flooding. It allows them to maintain their lifestyle."
Read full article and see more photos: University of Toronto