'A Green Future: Our 25 Year Plan to Improve the Environment' by HM Government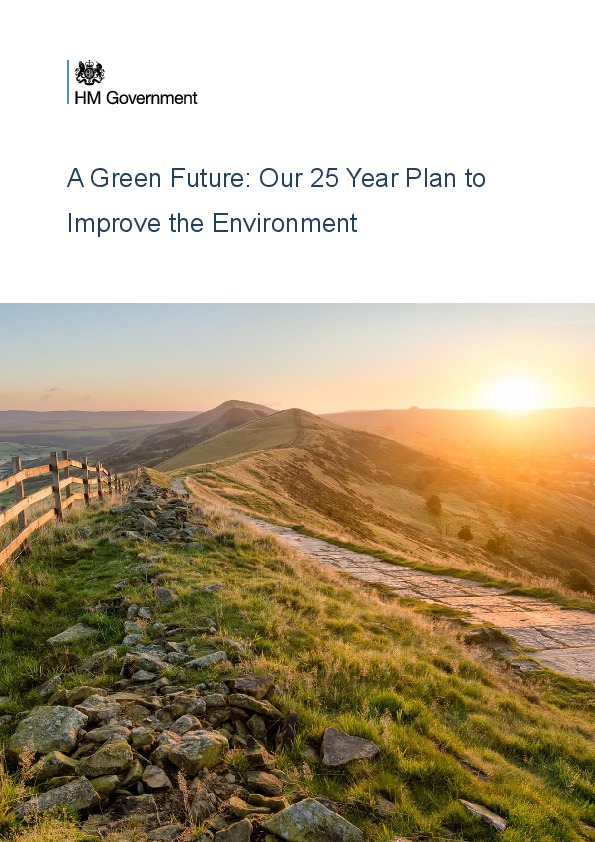 This 25 Year Environment Plan sets out government action to help the natural world regain and retain good health.
It aims to deliver cleaner air and water in our cities and rural landscapes, protect threatened species and provide richer wildlife habitats. It calls for an approach to agriculture, forestry, land use and fishing that puts the environment first.
Our ambitious proposals will tackle the growing problems of waste and soil degradation – issues that affect our urban areas as well as our countryside. They seek to improve social justice by tackling the pollution suffered by those living in less favourable areas, and by opening up the mental and physical health benefits of the natural world to people from the widest possible range of ages and backgrounds.
We also set out how we will tackle the effects of climate change – still perhaps the most serious long-term risk to the environment given higher land and sea temperatures, rising sea levels, extreme weather patterns and ocean acidification, which harms marine species.
The UK Government has a role in protecting and improving the environment both at home and abroad. We will show leadership on conservation, climate change, land use, sustainable global food supplies and marine health.
This publication is available at www.gov.uk/government/publications.