. ., ...
Water purification unit with capacity to supply clean drinking water to up to 100 persons per day This unit has a daily capacity of 36000 litres per day, giving 5 litres of drinking water for 7200 people, or 1800 pcs 20 L bottles.
Automatic back flush of UF membranes Manual back flush of media filters Clean drinking water safety exceeding WHO standards From any fresh water source 'Plug & Play' units ready for fast deployment Made for fixed installation under roof Durable for 10-15 years in optimal conditions Easy to operate Long lasting Media (sand and activated carbon) (3 years with normal raw water conditions)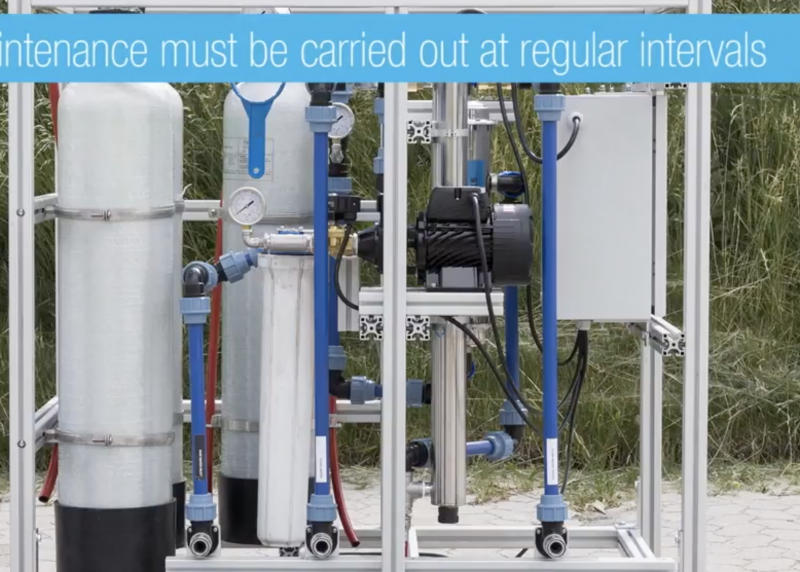 MOBILE WATER ​PURIFICATION ​UNITS - UP TILL ​1,5 MILLION ​LITER PER DAY ​

WATER BUFFALO 1 are ​ultrafiltration ​and Reverse ​Osmosis systems,​ Custom Made, ​designed to ​treat water of ​dubious nature, ​where it is ​necessary to ​solve any water ​emergency. ​ Water Buffalo 1 is an ultra-​filtration ​plant equipped ​with self-​generator ​inside. The ​ Water Buffalo 1 systems are ​equipped with ​filtration of ​20 and 5 ​microns, flow ​meters, ​pressurization ​systems, ​electric panel, ​pressure ​switches and ​control ​pressure gauges.​
The automated ​functions ​control is ​realized by an ​electronic ​digital unit ​with microprocessor,​ programmable ​even at a ​distance (if ​requested it is ​possible the ​installation of ​interface card ​and GSM modem ​for monitoring ​and remote ​management EWQM ​(Engeldot-Water ​Quality ​management); ​all function ​are monitored ​by LCD display. ​
To facilitate ​transport and ​installation, ​all Water Buffalo 1 systems are ​supplied in a ​special ​container, ​specially ​designed for ​this functions. ​Already ​provided to ​various ​humanitarian ​organizations, ​this plants are ​already ​operating in ​different ​humanitarian ​emergency areas.​
We are ​specialized in ​complete Plug ​and Play single ​or modular ​treatment ​machines for ​use in ​sweet–, ​brakish-, sea-, ​process water. ​Build in 8-10-​20 or 40 FT ​Containers. ​Capp. From 0.5 ​up to 1.​500m³/24hr ​
Demonstration Youtube video 60RO: https://www.youtube.com/watch?v=WxWPdEXL6RA&t=3s


For more information about waterpurification Plug & Play units 15 Years experience - 30 counties.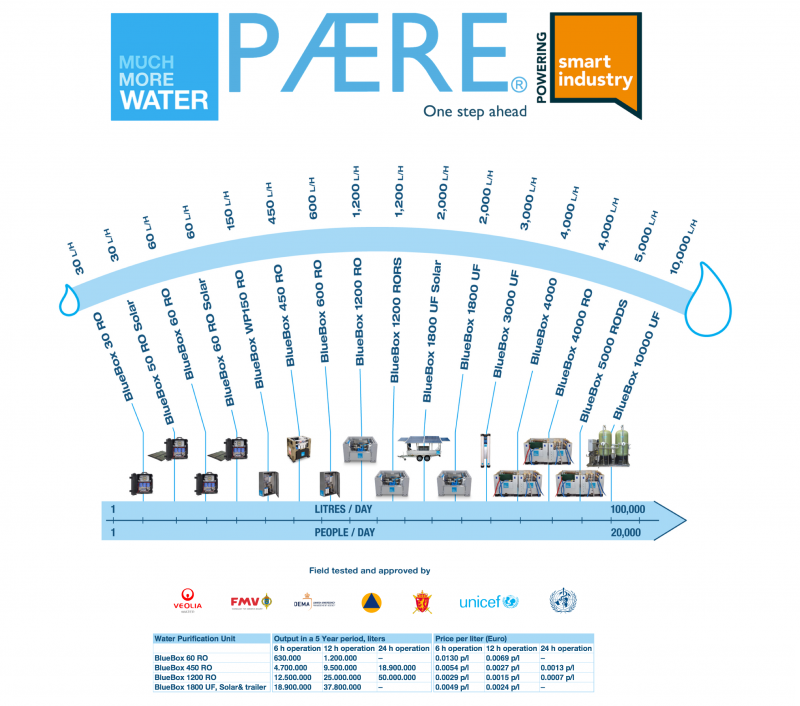 Waterstation units, Solar, Water Purification.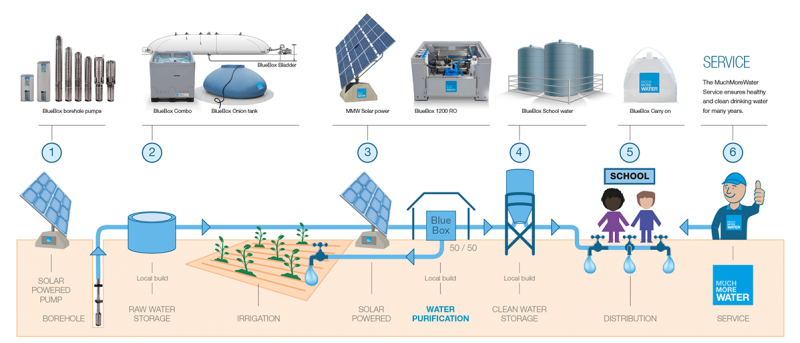 Afghanistan
Danish Emergency Management Agency field hospital in Kabul
Argentina
E.C. Corp. Mobile water supply for construction sites
Central African Republic CAR
2014 DEMA DK Emergency Agency relief mission
Chad, D.R.
2011 Solar powered water supply for hospitals, UNICEF
2013 Solar powered water supply for hospitals, WHO
2015 Desalination plants 5000 Lph for hospitals and schools, UNICEF
Colombia
2006 Bluebox 1200 mobile water purification plant
Bangladesh
Permanent water supply for Danida field laboratory near Dhaka
Permanent water supply for Nuttall Entreprises near Dhaka
Brazil
Permanent water supply for 10 schools in rural Amazons
Mobile water supply for Brazilian border patrols
Permanent water supply for Ariau Amazon Tower Hotel – Manaus
Denmark
Since 2004 Danish Emergency Management Agency, Rapid Relief camps
2011 DEMA. BlueBox 450's for field hospital use
2007-2013 Danish Red Cross, drinking water for humanitarian aid camp
Estonia
2012 Estonian Rescue Board. BlueBox 450 RO
France
2011 Veolia Foundation. BlueBox 1200
Ghana
Permanent water supply for Community Water and Sanitation Agency
Great Britain
British Emergency Resources Development Agency operates BlueBox 450 RO in
Haiti
2010 BlueBox 1200's in action at UN camp in Haiti. DEMA DK
India
2001 Water supply for Emergency Relief at earthquake site
Indonesia
2005 Emergency water supply for the tsunami-struck area, Banda Aceh
Iran
2003 Water supply for relief mission during earthquake in Bam
Iraq
Mobile water supply for Danish Peace Keeping Forces
Ivory Coast
2013 Wall-mounted purification plant for manufacturing facility
Korea
Bluebox 1200 Mobile water purifier
Liberia
Mobile water supply for Swedish Peace Keeping Forces in Monrovia
Mali
2014-2015 Norwegian Defence Forces
Mozambique
Mobile water supply for UNICEF during flooding in 2000
Nigeria
Permanent water supply for Nigerian Associated Best Foods Ltd.
Norway
2006 Finsam Container Systems. Mobile kitchens Blueboxes for military with special water test option
2010-2014 Complete water purification systems including water tanks for the Norwegian Civil Defence Division for Emergency Deployment
2014 Norwegian Armed Forces camp water solution for int'l missions
2015 DSB Directorate for Civil Protection Norway
Pakistan
BlueBox 1200's in action during and after flooding in Pakistan
Philippines
2013 BlueBoxes operating in UN and Red Cross missions after Typhoon
Sierra Leone
2014 DFID UK, Dema DK, DSB Norway Em. Agencies against Ebola
2015 International Medical Corps
South Africa
2004 Proof of Concept supervised by Water Research Commission
South Sudan
2012, 2013. Drinking water for camp supply. Red Cross, DSB (Norway)
Sudan
2006 Drinking water in refugee camp, managed by Swedish Defence
Surinam
2017 Eco lodges
Sweden
Mobile water supply for the Swedish Defence
2006 Development of 10" container water purification units
2008 Mobile water solutions for the Swedish Defence
2009 Mobile water purification, development and supply of new Bluebox 4000 system
2010 43 pcs Mobile BlueBox 4000 water purification units
2011 13 pcs Mobile BlueBox 4000 water purification units
2014 Installation for mobile slaughterhouse
Uganda
2013 Drinking water for workers in a large manufacturer (CSR water)
Vietnam
Permanent water supply at Health Clinic in Vi Thui village near Can Tho