Dr. Davinderpal Singh Bhatia, Project Manager, European Union Project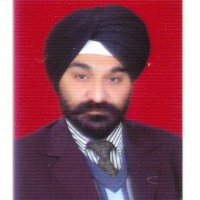 A Doctorate in Environmental Geology, having 19+ years working experience in diverse fields of Environmental Management, Hydrogeology, Mining, Solid Waste/Bio-Medical Waste/Liquid Waste Management, Disaster Management,Lakes Management, Environment Planning and mass awakening etc.

International exposure for Solid Waste/and sanitation projects adopted at Malaysia, Thailand, Bremen & Sweeden. Participated in International Water Week, 2016 at Stockholm. Taken Training at Indah Water Training Institute, Malaysia as well as Asian Institute of Technology, Bangkok.

Successfully completed the Doctorate in the field of "Environmental Degradation due to Mining Activities in Sirmour District of Himachal Pradesh"

Prepared 150+ Geological/Hydro-geological investigation reports for building construction/bridges/ hotels/infrastructural projects etc
Project Associate for "Geo-chemical survey of Bed rock-soil-water interaction of environmental, epidemiological and industrial significance, Eastern Punjab"
Successfully implemented the Integrated Solid Waste Management for Shimla City, Himachal Pradesh funded by Norwegian Embassy.
Successfully implemented a project on Solid Waste Management for Shimla --funded by GOI, under JnNURM.
Working on a Project on the "Capacity Building of Urban Local Authorities in the Delivery of Decentralised Sanitation Services" is being implemented in the State of H.P.-funded by European Union.
Organised/Coordinated/participated and imparted a number of Training Programmes on different themes of environment, mining, waste management, planning, decentralised waste management , disaster management, SBM etc.
Handled additional responsibilities like Sub_Registrar (Births & Deaths), Mechanical Transport Officer, Corporation Health Officer, Chief Coordinator (SEHB Society),Incharge SWM/BMW, Coordinator (JnNURM) Site Incharge for Solid Waste Plant etc.
Member of many National & International organisation and Committee for Swachh Bharat Mission (SBM) implementation in Shimla.
Registered Qualified Person (RQP) for the preparation of Mining Plans/EIA/EMP.
Advisor to various organisations for Solid Waste Management & Environmental Projects.